OPEN FAQ
THE OPENS
The Open is comprised of five workouts over five weeks. Open workouts are identified by their year and the order in which they appear. The workouts will be released every Thursday during the five weeks of the Open, and you can watch the live announcement of the workout that will be streamed on the CrossFit Games website. At CrossFit 267 we will have a viewing party at the gym at 8:00 PM. After the workout is released, any athlete who has registered for the Open will have until 5 p.m. PT on the following Monday to submit their best score online. The Registration closes this Thursday, REGISTER HERE!! ($20)
HOW IT APPLIES TO OUR GYM: 
Thursday nights there will be a viewing party at the gym starting at 8:00PM. The 7PM CLASS WILL NOT BE AFFECTED. Class will resume as scheduled.
The programmed workout on Friday WILL be the Opens WOD. Morning classes will run as scheduled, however, you can assume that there will be a general warmup, no strength work and then we will run heats of the Opens WOD and have parts of the class judge while the other parts workout. If you are not officially signed up for the opens, you will still be doing the Opens WOD.
FRIDAY NIGHTS is the MAIN EVENT. We will Run heats from 4pm-9pm. The earlier you come, the better chance you will have of going early.
There is an RX division, Scaled Division, Masters Division and Teen Division. If you are confused as to which division you should do, please check with a coach. You CAN do one workout RX and the next scaled. If you are capable of doing RX for a workout, please do so.
Scores must be inputed by 8PM on Monday, if you forget, there is nothing we can do 🙁 Make sure you put in your score!!!
SO WHY SHOULD I ENTER THE CROSSFIT OPEN?
8. UNCOVER NEW WEAKNESSES
One of the best parts of Crossfit is its constant ability to help you uncover personal weaknesses that need to be improved. This is true for athletes of all abilities, from CrossFit Games winners right through to complete newbies. Look at Katrin Davidsdottir and Rich Froning on rope climbs. Each of these CrossFit Games athletes met an exercise that they had not mastered, and severely struggled with it during each respective workout.
The point is that this can happen to you regardless of ability, and that it is a good thing because ultimately it will lead you towards becoming a better athlete. Entering the CrossFit Open 2017 will surely uncover a weakness or two for you to work on and improve upon in the future.
7. CONNECT WITH THE WORLDWIDE CROSSFIT COMMUNITY
Undoubtedly you have a great community at your Box, which is why it's fun and productive to train there. The CrossFit Open 2017 gives you the opportunity to expand that community internationally. Instead of your small group of fellow Crossfitters that go through the shared suffering of each workout, you will now be working out with the world! There are hundreds of thousands of other Crossfitters experiencing the same hardships, triumphs, and sense of achievement that you will.
6. BECAUSE YOU MIGHT SURPRISE YOURSELF!
Stepping out of our comfort zone is always easier said than done. Humans are wired to seek balance and safety and familiar surroundings, but signing up for the 2017 CrossFit Open will give you 5 new workouts to try, and allow you to test yourself against some of the best athletes in the sport.
You still complete the workout in your Box, but the context is different, and that added dimension can be helpful for pushing you further and harder, hitting PRs and new exercises for the first time.
Last year many people nailed their first bar muscle up when it was revealed to be in one of the Open WODs. The added pressure can often be a huge help to spur you on to surprise yourself!
5. TRAIN YOUR COMPETITIVE SPIRIT
We are all competitive in different ways and to varying degrees. If you are one of the top athletes in your Box, then the open lets you compete against the best from your area, country and other potential Regionals athletes. If you are very new to Crossfit, the Open will enable you to see how you are doing against many other newcomers from all around the world.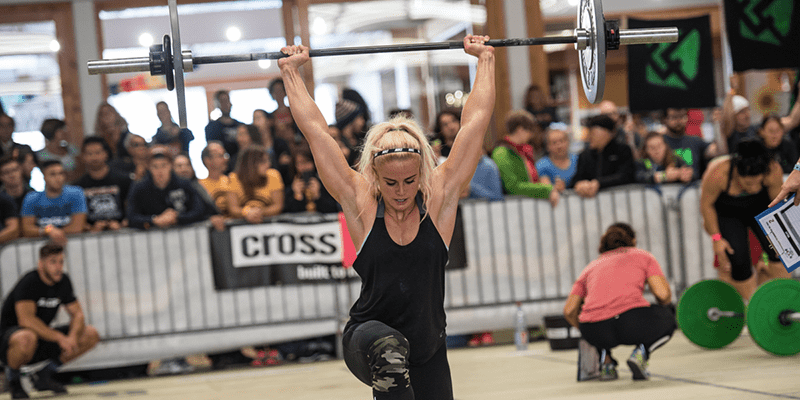 4. LEARN FIRST HAND JUST HOW GOOD THE TOP ATHLETES ACTUALLY ARE
Additionally, for the fun of it, it can be very interesting to measure own your score against the top athletes in Crossfit. This gives a powerful impression of just how fit and talented they actually are! Watching Camille Leblanc Bazinet clean and jerk twice her bodyweight on Instagram is impressive and motivating, but very different from comparing times when you've both just finished the same workout!
3. RECONTEXTUALISE TOUGH MOVEMENTS
Do you have any exercises that you still struggle with? Double unders, muscle ups, handstand push ups or walks for example? Sometimes its easy to put these movements on a pedestal, which often makes them even harder to achieve. The Open can help to change that framework.
Every year members accomplish firsts in the open from first RX WOD to first toes to bar to first muscle up to first pullup. There are so many new opportunities! The atmosphere, change of scenery and competitive environment allow members to step up their game. The same can happen to you!
2. IT IS SUITABLE FOR ALL FITNESS LEVELS
Since 2015 there has been a scaled division in the Open. This is great because whatever level you are, each workout can be scaled to suit you, yet still lets you compete. Whether that means working with an empty bar or doing jumping pull ups instead of muscle ups it doesn't matter. You still get the chance to workout, enjoy the atmosphere, sense of international community and measure your times against others of your level (if you want).
Emily Abbott and Chyna Cho compete alongside other beginner Crossfit athletes
1. BECAUSE IT'S FUN!!!!
This reason is pretty simple and speaks for itself. Just enjoy the experience and give the CrossFit Open a go.